Healthy Valentine
Be my healthy valentine! It is a great way to celebrate the people we love. I know I will be doing something for my hubby because he puts up with me and does so much for me. Thankful for him! Valentine's Day will be here before you know it. I don't know about you but my family sure is focused on good nutrition after everything that has happened the last few years. We are not big fans of candy but we are fans of chocolate, especially healthy chocolate. That is why my hubby will be getting a boatload of healthy chocolate from his wifey among other things. Why not give a healthy Valentine gift to your sweetheart this year!
Healthy Chocolate
It is hard to believe but my family has been eating healthy chocolate for over 13 years now. I was introduced to it by a local doctor in Port Charlotte who felt good nutrition was a big deal. The Beyond healthy chocolate I eat is nutritious and delicious. One indiviudally wrapped piece is just 35 calories, 1 gram of sugar and 1 net carb. It shocked me to learn that one piece has the antioxidant value of a pound of raw spinach!! The antioxidants and flavonoids in this chocolate are higher than anything I have found anywhere else. I eat 3-4 pieces a day, spaced out morning to evening. It makes me feel good. I am hooked!
For those with special diets, you will find this dark chocolate can accommodate most people. This chocolate is KETO friendly, gluten free, vegetarian, low glycemic, kosher and low sugar. Lots of good reasons to start incorporating healthy chocolate in your diet. Before you run to your local grocery or health food store, you really need to look at the antioxidants in the chocolate. That is what truly matters.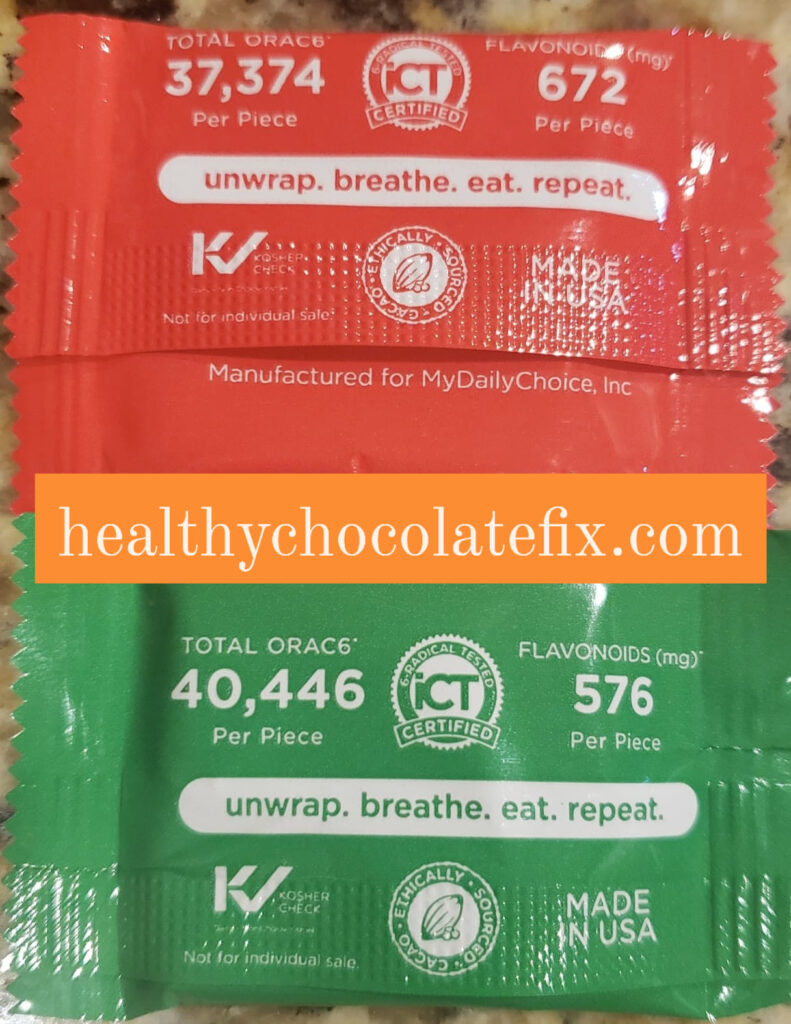 Happy Valentine's Day!
This is why you should ask your sweetie to "Be my healthy valentine" this year. You can enjoy the good stuff, just make sure it is not filled with waxes, processed sugars and wasted calories. Unfortunately so much candy chocolate does not even include actual chocolate. You will see the packaging will say chocolately. If you are able to find actual chocolate, you will want to see how many antioxidants are in the chocolate. The more it is processed, cooked and heated, the less antioxidant and polyphenols will be in the chocolate. Be sure to pick a product that proudly declares the amount of antioxidants (ORAC score} and flavonoids.
ORDER HERE
Get your Be my healthy valentine order in right away. My family orders the value pack as it saves you $41. Buy a sample size or full pack that you can mix and match. I wake up in the morning and have a piece of healthy chocolate right away. It is easier for me to space them out before lunch and dinner and have another before bed. I don't limit myself to healthy chocolate, I find if I have 3 to 4 a day, I like the way I feel so much better. Today is the day to Change Your Chocolate! Feel Good Chocolate with NO GUILT!
Reach out to Three Sons Marketing LLC! Visit our website: HealthyChocolateFix.com or call us at 941.676.7300. We are here to help!
Three Sons Marketing LLC is an affiliate of MyDailyChoice. Visit us online at Healthychocolatefix.com or call us at 941.676.7300.
Looking to start a home based business or a part time side gig? This is seriously one of the very best options out there. I can helo you start your business from home on social media. Learn about the new MDC Marketplace and how it is the best opportunity in 2023! Details here.
Disclaimer: These statements have not been evaluated by the Food and Drug Administration. This product is not intended to diagnose, treat, cure, or prevent any disease. Beyond products are part of a comprehensive approach to a healthy lifestyle. The content on this blog is for informational and educational purposes only and is not intended as medical advice or to replace a relationship with a qualified healthcare professional.