Can Chocolate Improve Health?
Funny question I know, but can chocolate improve health? When I was younger, a candy bar was a treat I loved. I was a heavy child and then a heavy adult so the candy aisle was something I stayed away from as much as possible. Once I got married, I quickly realized my husband could eat anything he wanted and never gain weight but that was never the case for me. If I looked at food, I swear it ended up on my hips and thighs. So I am sure you can imagine what I thought when someone told me I could lose weight eating chocolate. I thought they were crazy. Talk about fake news!
What I Learned About Cacao
So the cacao that was shared with me was actually different than what you find in the candy aisle at your local grocery or big box store. In fact, this dark Belgian chocolate was low in sugar, low in calories, keto friendly and low glycemic. Since the chocolate tasted so good, I had no problems eating it. Soon my entire family including my three littles were all regularly consuming dark healthy chocolate. And, we were seeing benefits I did not expect. Can Chocolate improve health? Yes, I think it can!
Benefits From Chocolate?
I had been told I could lose weight eating this belgian cacao. Learning that one 35 calorie piece of this healthy snack was equal in antioxidants to over 1 pound of raw spinach. We were told to eat 3-4 pieces a day spaced out morning mid day and evening. When I did this I noticed benefits and I started dropping weight. Apparently our body likes healthy food choices and healthy fuel over processed and fake foods. I used to count calories religiously and never understood why I still gained weight or did not lose at all. It is not just the calorie count but the nutrition in the food that matters. I wish I knew that when I was younger.
My Personal Benefits
I also learned that when your blood sugar is not controlled, it is very difficult to lose weight. Just a few personal benefits I have experienced eating Beyond healthy chocolates: weight loss, improved energy, younger looking skin, happier mood. Our son with autism also experienced significant health benefits with his mood. If you have or know a child with ADHD, Aspergers or Autism, then you understand how severe these mood swings can be and how they impact a family on the regular.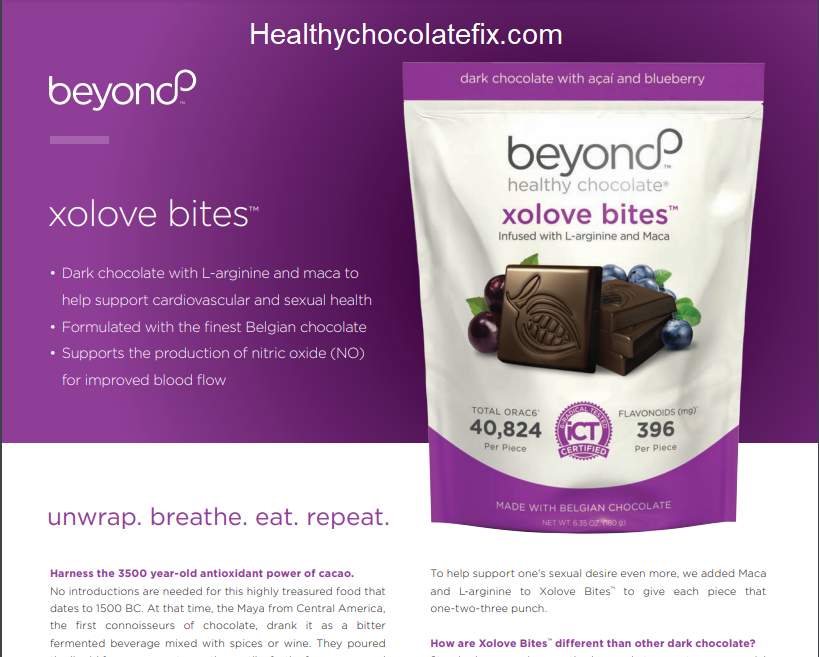 Why We Still Eat This KETO Treat
Our family has been eating this delicious Belgian chocolate for over ten years now. We personally notice a difference. I am thankful that someone took the time to share this yummy healthy treat with us. Now we are paying it forward and sharing it with you. Take the time to check it out. This is not the candy chocolate you will find at Whole Foods or Trader Joes. Just because chocolate is sold at a "healthy" store, does not mean it is healthy. If you want to know if your chocolate is healthy, be sure to check the flavonoid content and ORAC6 (Antioxidant) amounts. One piece of Beyond healthy chocolate is equal in antioxidants to over 1 pound of raw spinach. If your chocolate wrapper does not tell you how many antioxidants and flavonoids are in your chocolate, that is a good indication that it is not a high number. If it was off the charts, they would want you to know.
Eat The Good Stuff, It's Delicious
Order your Beyond Healthy Chocolate at our healthy chocolate store here, You can also call us direct at 941.676.7300. We are here to help!
Get paid to share
This is a great home based business opportunity. Share "healthy chocolate", great wellness products and get access to digital products and an upgraded Coinzoom digital wallet and platform. Beyond is rocking. Learn about the fantastic commission plan and get on board today. Details at ChocolateGoldMine.com or reach out to Lynette at 941.268.1354.