Vegan Shake Smoothie
Vegan berry protein is one of my new favorite foods. As I get older, I have tried eliminating dairy and other foods for my improved health. Maybe you have too. At one point I went gluten free, dairy free and vegetarian. What I noticed was that the vegan protein shake I enjoyed was very easy on my stomach. On days when I just did not feel like myself, this Vegetarian berry protein shake was my answer.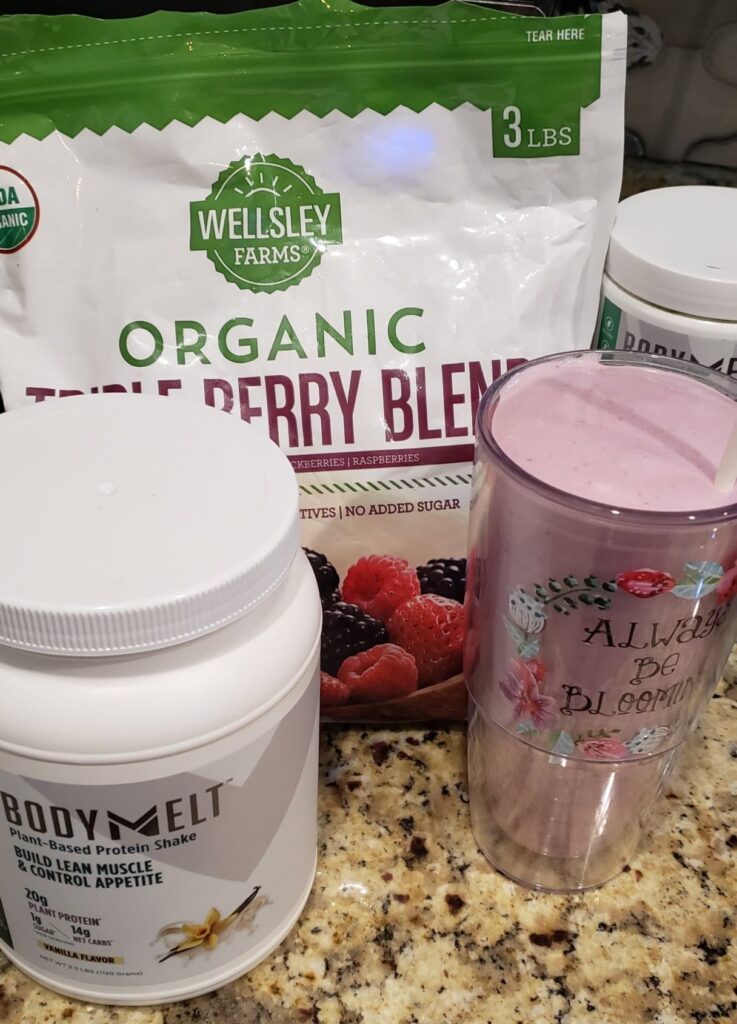 Vegan Triple Berry Protein Shake Recipe
This Vegan berry protein recipe is super easy to make and that is one of the reasons I love it so much. It is tasty and fills me up and does not upset my stomach.
Vegan Triple Berry Protein
1 cup unsweet vanilla almond milk (organic if possible)
1/2 cup frozen organic berries (Your choice. I love Strawberries or triple berry)
1 large scoop Vanilla BodyMelt protein
Mix in blender and enjoy!
Vegan Weight Loss Ideas
If you have not tried a vegetarian or vegan diet, maybe now is your time. I can honestly say my BodyMelt Vanilla vegan shake plan is the yummiest I have ever tried. I have been enjoying this specific recipe since November and it is still one of my top two vegan shake recipes. Check out the Body Melt plant based plan my husband and I are doing. I love not worrying about what to make for breakfast or lunch. Check out HenksGetHealthy.comhttp://henksgethealthy.com and let me know what you think.
Reach out to Lynette of Three Sons Marketing LLC at:
Hope to hear from you soon. 🙂
Three Sons Marketing LLC is an affiliate of MyDailyChoice. Contact us today to get your healthy chocolate fix! Join our Beyond Fearless team today. We are looking for individuals, leaders and influencers.
Product Disclaimer
These statements have not been evaluated by the Food and Drug Administration. These products are not intended to diagnose, treat, cure or prevent any disease. MyDailyChoice, Inc. assumes no responsibility for the improper use of and self-diagnosis and/or treatment using these products