Heart Healthy Foods
I saw an article titled "Heart healthy benefits of chocolate" that really caught my attention. It was written by the Cleveland Clinic who is ranked among the top hospitals in the country. So when I saw such a prestigious hospital talking chocolate, it caught my attention! As a forever fan of dark chocolate, I was looking for any excuse to eat chocolate. I am always looking for an excuse to eat more chocolate.
"Why a little, in moderation, may be beneficial" Cleveland Clinic
"Chocolate has gotten a lot of media coverage in recent years because it's believed that it may help protect your cardiovascular system. The reasoning being that the cocoa bean is rich in a class of plant nutrients called flavonoids.
Flavonoids help protect plants from environmental toxins and help repair damage. They can be found in a variety of foods, such as fruits and vegetables. When we eat foods rich in flavonoids, it appears that we also benefit from this "antioxidant" power."
Heart Healthy Benefits Of Chocolate, Cleveland Clinic; https://my.clevelandclinic.org/health/articles/16774-heart-healthy-benefits-of-chocolate
Does All Chocolate Offer Flavonoids?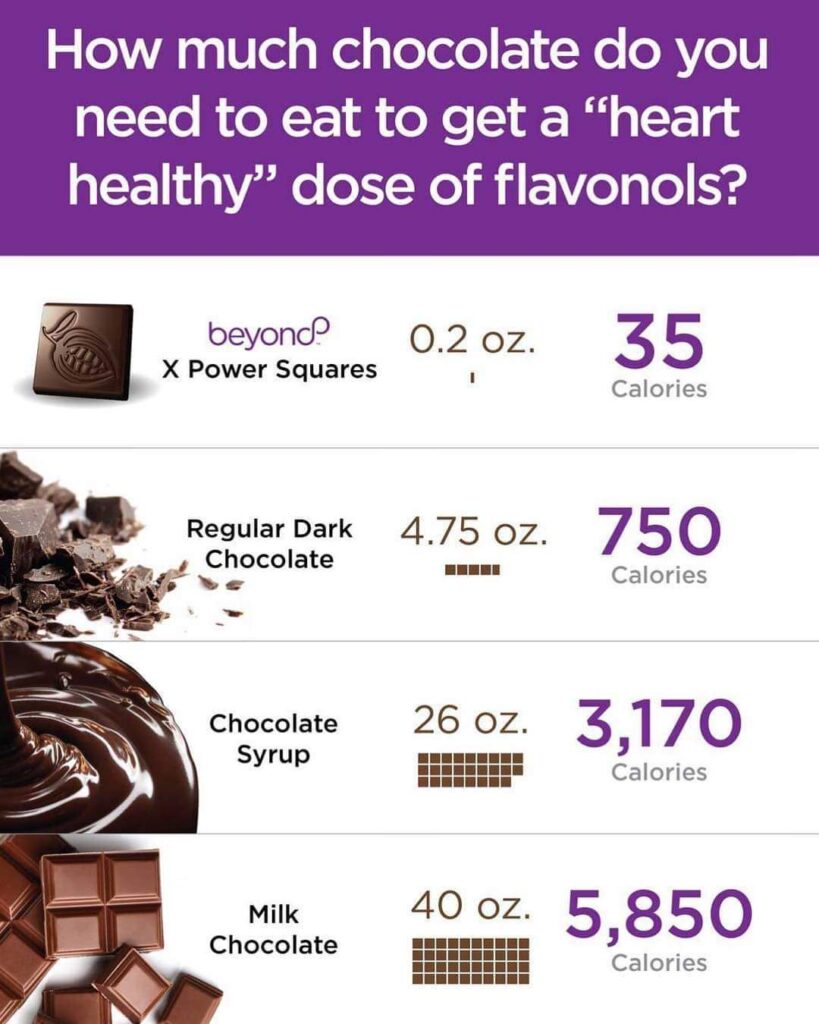 Flavanols are the main type of flavonoid found in cocoa or chocolate. Depending how the chocolate is processed will determine how many flavonoids or flavanols are in a chocolate product. If you stop at a local health food store, Whole Foods, Publix or even your local Walmart, there is no guarantee that the chocolate you eat will offer the heart healthy flavonoids that Cleveland Clinic mentioned in their article. One way to be sure the chocolate you are eating is full of the important flavonoids, is to purchase chocolate that tells you exactly how many milligrams of flavonoids are in each piece of dark chocolate.
One Chocolate Brand Stands Out
As I am writing this blog post, I am eating a piece of Beyond healthy chocolate. I am eating the green wrapper Xobiotic Square that includes a probiotic. This one 35 calorie piece of chocolate offers 576 mg of flavonoids and it is clearly noted on the wrapper. I have not found any other brand of chocolate that even comes close or shares the amount of flavonoids in their product. Check it out for yourself. This company found a way to keep in the antioxidants and cocoa flavonoids without sacrificing the delicious taste of belgian chocolate. Even better there is just 1 gram of sugar and 1 carb. As a diabetic, I can enjoy this low sugar chocolate without a problem. This is also great for those on KETO, gluten free or vegetarian diets. I was thrilled to find out about the Heart healthy benefits of chocolate.
12 Years And Counting
My family has been eating these Beyond chocolates for over 12 years. These are the chocolates I fed my children before they went to school and as a snack once they came home. These are the chocolates my son took to the dorm when he started college and guarded with his life. This is the chocolate we eat 3-4 pieces of each every single day.
Take The Challenge
Are you ready for the Chocolate Challenge? Get a notepad and write down the issues you are dealing with today. If you are struggling with arthritis or other chronic health issues. Do you have that old injury from high school? Whatever it is, right it down. Order enough chocolate to eat 3-4 pieces a day for a month. Once you get the chocolate, eat a piece in the morning, at lunch time, afternoon and evening. Spacing them out is recommended. After thirty days, go back to that notepad and compare your list. Have any of your issues improved?
Crazy Times
That is what my hubby and I did years ago. We heard about healthy chocolate but were not sure it would be worth the cost so we did the 30 day chocolate challenge. Considering we are still eating this chocolate, 12 years later, and feeding it to our kids, It's a safe bet that we noticed a difference.
We live in crazy times. Eating good nutrition matters. You are worth it. Your family is worth it. Order Beyond healthy chocolates today. Start enjoying the health benefits of flavonoid rich chocolate.
How To Get The Best Price On Healthy Chocolate
Save over $40 when you buy the mix and match 4 pack. One bag of healthy chocolate runs $34.99 for 30 individually wrapped pieces. When you order as a 4 pack, it works out to just $25 a bag. This chocolate has no waxes, fillers or processed sugars, so it will melt in this warm spring/summer weather. There is a summer surcharge for shipping due to the special needs of the chocolate in shipping, so it makes sense to order in 4 packs to save big.
Order HERE
You can find the Three Sons Marketing LLC website at HealthyChocolateFix.com. You can also call us at 941.676.7300 if you have any questions. We are here to help!
Three Sons Marketing LLC is an affiliate of MyDailyChoice. Contact us today to get your healthy chocolate fix.
These statements have not been evaluated by the Food and Drug Administration. These products are not intended to diagnose, treat, cure or prevent any disease. MyDailyChoice, Inc. assumes no responsibility for the improper use of and self-diagnosis and/or treatment using these products.