What are the best diet supplements this year?
Best weight loss supplements for 2022 is a common google or duck duck go online search request. Even those of us who don't normally struggle with weight issues are finding it hard to lose the weight with all the restrictions we have faced over the last two years. Depending on the State or Country you live in, even something as simple as working out at the local gym could have been or is still a challenge.
You Are Not Alone
You can see that you are not alone in your quest to lose weight. Most of us are in the same boat, my husband and I included. 🙂 Considering all of this, my hubby and I decided to lose that extra weight we were tired of carrying. I normally struggle with weight but my husband, not so much. Losing weight with a diet plan was new for him. Using a protein shake or a smoothie daily, also new for him. We found a diet plan that we could both live with and it had great ingredients. But, here was the problem. My husband is not a fan of daily protein shakes, no matter how good they taste.
Weight Loss Without The Protein Shake
The plan we decided on was called Body Melt. It is a plant based vegan diet with a choice of a vanilla or chocolate protein shake, greens superfood supplement, an energy drink and three diet supplements. It was affordable with many organic ingredients and we were pleased with the ingredient list. We both started the diet and immediately started losing weight. For the first month my husband was all in on the protein shakes. We were doing the vanilla plant protein with unsweet vanilla almond milk and an assortment of organic fruits depending on the day. I was doing two shakes a day and my hubby one. Problem was after the first month my husband was tired of the shakes, but he continued to lose weight because he continued to follow the rest of the program.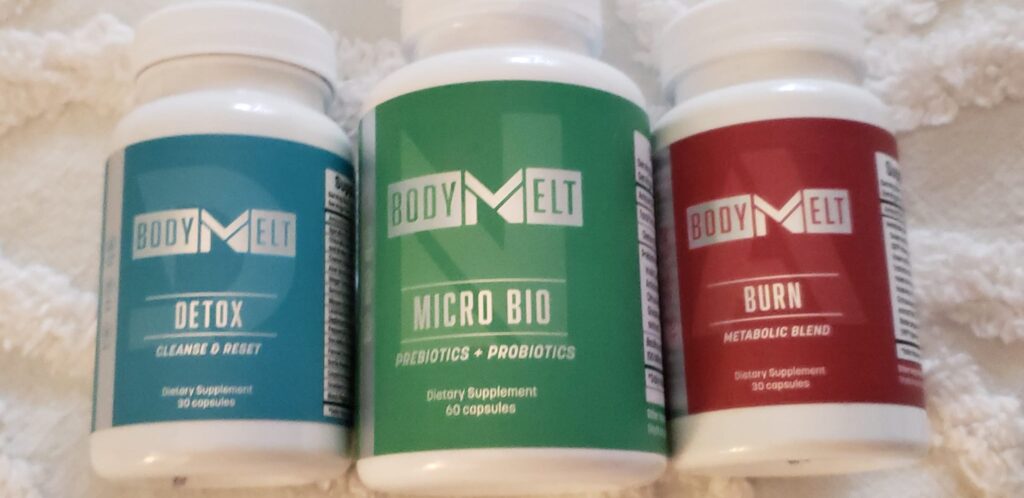 BodyMelt Weight Loss Supplements
We seriously believe we have found some of the Best weight loss supplements for 2022 in the Body Melt plan. Originally we both individually ordered the $199 monthly pack that included a protein shake for once a day, the energy drink, the greens superfood, a probiotic, detox and a burn metabolic blend. It was such a deal it was a no brainer to get started. Actually glad we both did the entire plan the first month and really shocked that my husband is continuing to lose weight in his tummy area just taking the Body Melt weight loss supplements.
Good Supplements!
I really did not think to much about the supplements alone as I was doing the entire plan. But really, these are such good supplements I thought I would share my husbands results and you can decide for yourself. Even if you are not ready to go full fledged into a complete diet, why not try out the supplements and see what you think.
Is It All About The Protein Shake?
The vanilla protein shake is seriously delicious. I have heard the chocolate is good as well. Since I enjoy frozen berries in my shake, I prefer the vanilla. It is not hard to stay on this shake because it tastes good. Even my mom who is not on a diet is enjoying the shake. She was in the hospital and is recovering at home. The taste is excellent and it's a great nutrition packed shake. Today we both had a triple berry vanilla shake. It is super easy to make.
Our Recipe Today
Each serving is just 1 cup unsweet vanilla almond milk, 1/2 cup frozen organic berries and 1 large scoop of the Vanilla BodyMelt Protein. Mix in a blender and serve. I continue to do the entire Body Melt plan because I find it is easy to follow and I am getting results. I have lost over 25 pounds and it is easy to follow.
Diet Supplements
Here is the scoop on the diet supplements. In the morning, we are both taking the BodyMelt Micro Bio. This is the prebiotic and probiotic. It includes 100 billion CFU/g of the probiotic. That is significantly better than the $50 probiotic I was taking before!
About 10am we both take the BodyMelt metabolic blend called Burn. It is a "powerful blend of herbal extracts that support a healthy metabolism". You are supposed to take it an hour after your morning meal with a glass of water.
Detox
We take the Detox Cleanse & Reset in the evening every night for the first two weeks. You are supposed to start with one detox pill and can work up to two an evening depending on your personal needs. You take it for the first two weeks and then skip a week. If you still need it after the week off, you can take it another week. Our plan has been to take it the first two weeks and then skip two weeks and then start over the next month. That has worked out well for us.
My hubby mentioned he lost 4 pounds in one week just taking these three supplements!
I continue to see him losing weight in his stomach area. I also see he is snacking. He is just not doing the shake. Clearly these are some of the Best weight loss supplements for 2022.
Henks Get Healthy
I continue to follow the Body Melt $199 plan and even order an extra shake so I can have two a day. Personally I always struggle to lose weight and this is working. I love the combination of the diet pills, the shake, energy drink and the greens superfood. For my husband, he likes taking the supplements. It is easy and it is working for him. I can't recommend this enough. Are they the absolute Best weight loss supplements for 2022, I can't tell you. What I can say is these products are working for us and we each have different needs. This is definitely a plan to check out.
Details
Three Sons Marketing LLC is an affiliate of MyDailyChoice. Contact us today at 941.268.1354 or visit us online. We are looking for team members to continue to grow our team and share Well Beyond healthy chocolate and the BodyMelt Wellness plan.
Product Disclaimer
These statements have not been evaluated by the Food and Drug Administration. These products are not intended to diagnose, treat, cure or prevent any disease. MyDailyChoice, Inc. assumes no responsibility for the improper use of and self-diagnosis and/or treatment using these products.