Face Lift Or Botox?
Five minute facelift sounds pretty interesting to me. As a 58 year old mom of three, I saw the before and after photos and was intrigued. Within minutes you can see the under eye bags diminish. Just wow. I was also shocked at how affordable this product is!
The Revolutionary Peptide
This revolutionary peptide, argireline, is already known to produce significant results in anti-aging. It's a peptide that works like botox in the treatment of fine lines and wrinkles. Be you. Be flawless. Are you ready for the Five minute face lift?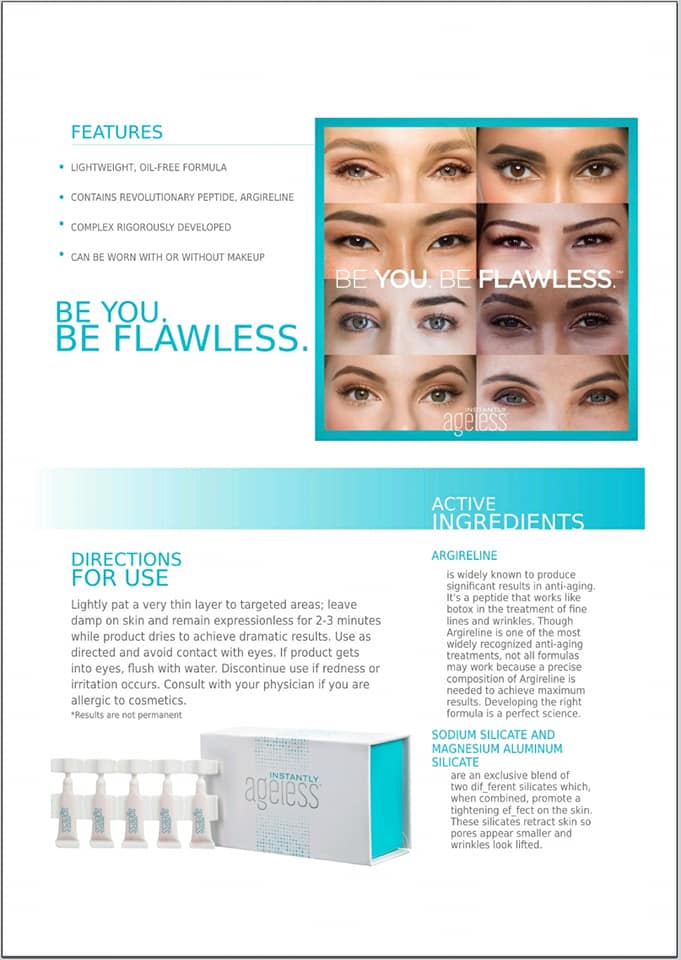 Is This For You?
Are you looking for a quick transformation without having to have to go through an expensive and painful surgical face lift? This has to be the fastest before and after I have ever seen! In less than five minutes, you can see how quickly her under eye bags change. I also love that this product is made in the USA. I am excited to have this product available for any special times! For sure this product is going to come in handy for me, especially when I am getting ready for an event, wedding, or a get-together with friends and family.
What You Can Expect With Face Lift In A Box:
Product Features
Dramatically reduces the appearance of under-eye bags
Reduces the appearance of fine lines and wrinkles
Diminishes the look of enlarged pores
Great for everyday use
Dermatologist-tested & recommended
Formulated for all skin types
Ideal for multiple applications
Portable, on-the-go packaging that's perfect for travel or sharing
How It Works
"Within two minutes, Instantly Ageless® targets areas that have lost elasticity, helps reveal visibly toned, lifted skin and tightens and smooths the skin's appearance for up to nine hours!
Instantly Ageless® Facelift in a Box is a powerful anti-wrinkle micro-cream that works quickly and effectively to diminish the visible signs of aging. Instantly Ageless® revives the skin and minimizes the appearance of fine lines and pores for a flawless finish."
Where To Buy this Five minute face lift In A Box
Instantly Ageless® Facelift in a Box is available direct at our 3sonsmom.com website at the best price available.
You can also reach Lynette at Three Sons Marketing LLC at 941.676.7300.
Three Sons Marketing LLC is an affiliate of MyDailyChoice and a part of the MDC Marketplace! If you would like to get paid sharing your store and curated fantastic products, watch our short video for the details. (No, we won't spam you. I hate that!)
Disclaimer: These statements have not been evaluated by the Food and Drug Administration. This product is not intended to diagnose, treat, cure, or prevent any disease. The content on this blog is for informational and educational purposes only and is not intended as medical advice or to replace a relationship with a qualified healthcare professional.