BIG Magic Oil Sale on the entire HempWorx Line
FREE $100 in product in loyalty rewards! Yep, you can earn free product credit to buy whatever you would like when you participate in the 48 hour Magic Oil Sale and spend $199 on magic oil products! Once you place your order you will quickly receive loyalty rewards! You just choose what you would like and choose loyalty rewards as payment. Easy peasy! Seriously, Here are the deets!

Set your alarm! It all begins at MIDNIGHT PST starting August 8th!

Ignite your Magic Oil Day celebration!

For 48- Hours only, spend $199 on or more on HempWorx products and unlock $100 in Loyalty Rewards. woohoo!! Discover premium & Hemp products for your wellness journey. Act Fast offer expires August 10!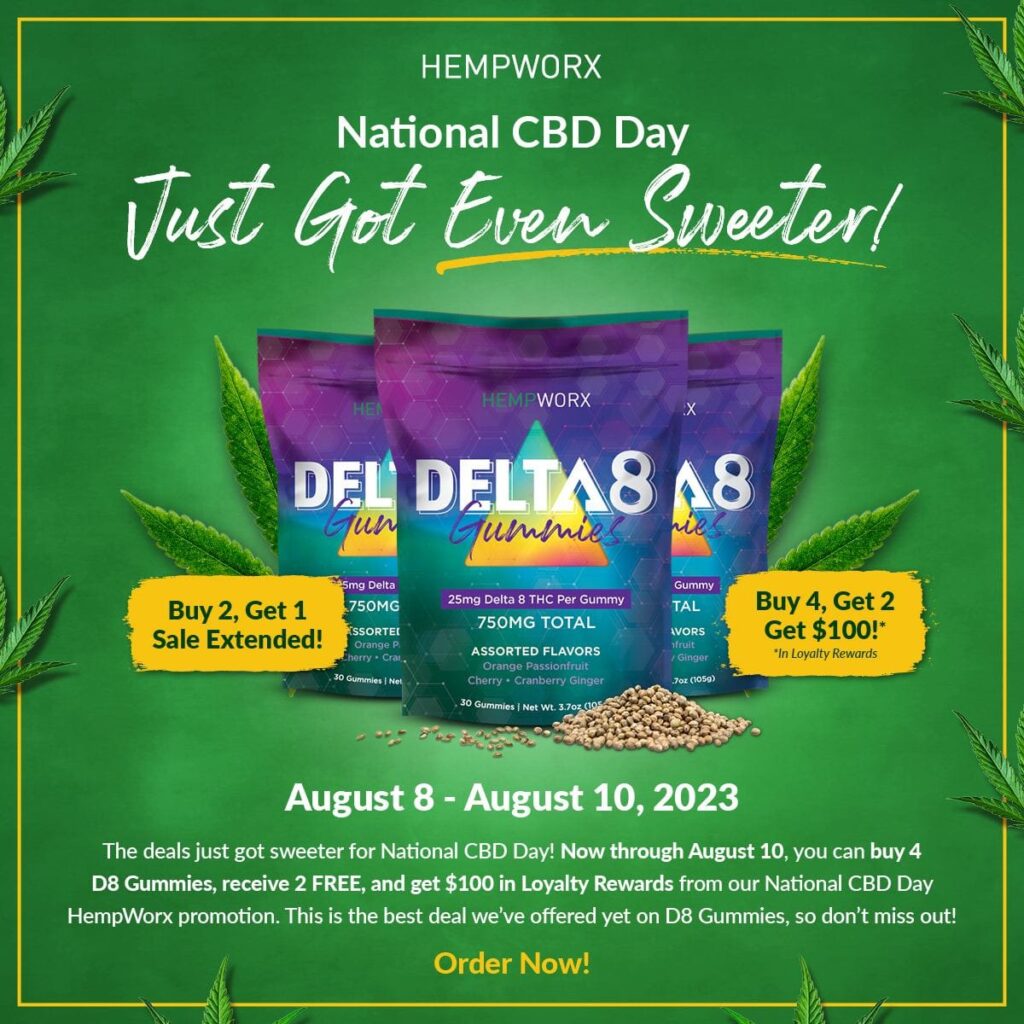 D8 Gummies Buy 2 Get 1 FREE!
Your Magic Oil & d8 savings just got sweeter!

For the next 48 hours, indulge in the best of both worlds – Grab 2 bags of D8 Gummies and Get 1 FREE! But hold on, there's more. We've sprinkled in our National C D Day magic: Spend $199 on ANY HempWorx products, and you'll receive $100 in Loyalty Rewards!


Imagine this: Score 2 extra bags of our top-selling adult gummies for FREE when you buy 4! Plus, the cherry on top – $100 in Loyalty Rewards.

Don't miss out on this unbeatable offer that's too good to snooze on!
My Fave Tinctures & Relief Cream
I don't go without my Cinnamon tinctures or the relief cream. The relief cream sits at the side of my bed because I use it all the time and my husband keeps a jar right near his recliner. We are well stocked with this product because we never want to run out. You never know when you need it and I love to feel that relief! At this great price, stock up on $199 of your favorite magic oil products and score $100 in loyalty rewards to be used for any products on the website. What a deal! This is a short 48 sale so hurry and order. You can't beat FREE $100 in product!
Questions?
Reach out to Lynette of Three Sons Marketing LLC at 941.268.1354 or visit our website at 3sonsmom.com. If you are looking to join our team and get paid for social selling of your online store? Details here.
Three Sons Marketing LLC is an affiliate of MyDailyChoice. If you would like info on how you can join our team and create income, check out our short video here.