Wild Berry Energy
Fire up your metabolism! I heard about this energy drink you mix with water a few years ago and have been hooked ever since. I drink a lot of water and sometimes I crave something with a yummy flavor. This zero sugar KETO drink has an amazing berry taste. It is the perfect pick me up after a work out or in the afternoon or any time you are feeling a bit sluggish.
Xe TRM
This product is meant to help support your weight loss or weight management goals. The proprietary high antioxidant blend of cocoa, acai and blueberry, Redmond's Salt trace mineral blend and Chromium make this something special. Fire up your metabolism, energy levels, mood, and your microbiome with Xe Trm. This delicious berry beverage promotes normal blood sugar levels*, supports the loss of stubborn belly fat*, increases physical & mental energy* and helps support normal gut health*
Xe TRM is back in stock!! If you have been looking for Well Beyond Xe TRM, here it is!
Powerful Drink Supplement
Well Beyond's revolutionary drink supplement, Xe TRM is made with ingredients that give you the power to:
Lose weight while maintaining lean muscle
Give your body the antioxidants it deserves
Improve your everyday energy levels and mood
Reduce those pesky carb cravings
How to Order
This product was so popular it sold out. Thankfully it is now back in stock! Make sure to order right away so you can get it quickly. You can find XeTRM here. You can also reach out to Three Sons Marketing LLC at 941.676.7300 and we will let you know as soon as Xe TRM is available.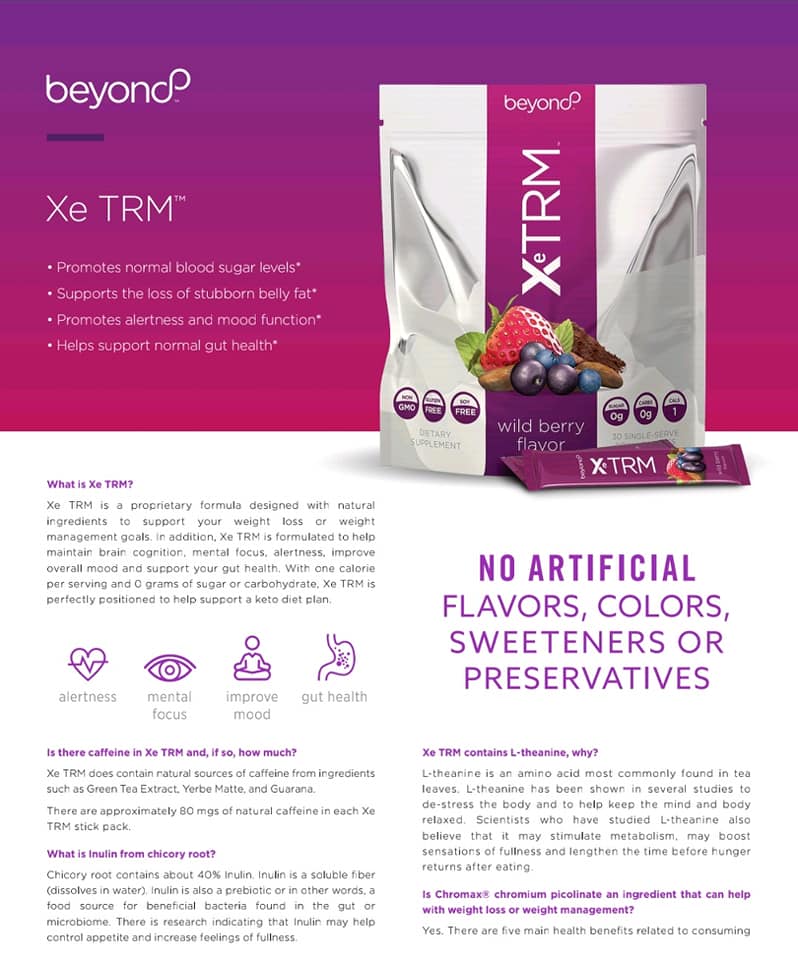 Three Sons Marketing LLC is an affiliate of MyDailyChoice. Contact us today to get your healthy chocolate fix or call 941.676.7300.
These statements have not been evaluated by the Food and Drug Administration. These products are not intended to diagnose, treat, cure or prevent any disease. MyDailyChoice, Inc. assumes no responsibility for the improper use of and self-diagnosis and/or treatment using these products