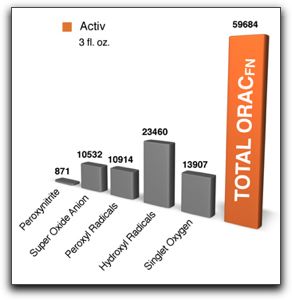 XO, the original dark healthy chocolate, is made from the world's number one antioxidant superfood cacao and the incredible acai berry.
With their revolutionary product, XO created the healthy chocolate industry and continues to set the nutritional standard. In addition, XO's compensation plan is unsurpassed among health and wellness direct marketing companies.
But Well Beyond is not resting on its laurels. They decided to make their heart healthy chocolate even more powerful. XO is in the process of enhancing each of its formulas. To analyze and quantify the chocolate benefits of the re-formulations, Well Beyond hired third party Brunswick Laboratories to test each new compound.
The results are in for Activ, XO's all-natural health beverage. Total ORACFN 59684!
XO Activ contains a rich blend of unprocessed cacao, acaí berries, blueberries and concord grapes. Activ has a rich chocolate taste that is far superior to any other chocolate flavored protein shake or energy drink. If you enjoy high-fructose Hershey's syrup (a household staple for many in Punta Gorda) you will love Activ!
These new and improved Third Generation XO products are being introduced in a
campaign called The Whole Story. Contact me at 941-216-5727, at [email protected] or at LiveForChocolate.com.
I am Lynette Henk and I love telling Punta Gorda folks about XO antioxidant chocolate. My SW Florida network marketing business grows as I share the great news about XO dark chocolate. If you join me at a XO seminar, you can learn more about chocolate health benefits and how to build a home based business mlm in Port Charlotte or Punta Gorda.