Fake chocolate?
FAKE chocolate? We hear about FAKE news all the time. Did you know you also need to watch out for FAKE chocolate? We don't fall for that at our healthy living store in Babcock Ranch, Florida. Here is what you need to know so you don't fall victim.
Healthy?
The media has done a great job of telling us that dark chocolate is good for us. What they don't share is the rest of the story. Most people look for at least 70% cocoa and assume that is healthy. Unfortunately how it's processed determines how many flavonoids are found in chocolate. Instead of worrying about how much cocoa is included, make sure you know how many flavonoids or flavanols per piece. Make sure you find a dark healthy chocolate that is sharing this vital information. Skip the FAKE chocolate.
According to SFGate Article What Is a Flavonoid in Chocolate?
"Flavonoids are a large group of plant-based antioxidants. The type of flavonoids found in chocolate are flavanols. "
"Flavanols found in cocoa solids may lower blood pressure and cholesterol, improve glucose metabolism and maintain the health of your blood vessels. A study published in the September 2012 issue of "Hypertension" noted that cocoa flavanols improved brain function in elderly people with mild cognitive impairment. "
Benefits of flavonoid rich dark chocolate
Unfortunately most chocolates are made with waxes, fillers and processed sugars and have very little if any cocoa or cacao content at all. Seriously???? What we consider "Good" at the health food store still are heated like traditional candy. You can verify this on the back of the label by checking to see if it is made with cocoa liquor or has been conched. Cocoa liquor is created when this delicacy is heated for days. Unfortunately this heating loses cocoa flavonoids which are so beneficial. Conched is a more creative way of saying they are cooked. If you cooked your vegetables for 3-4 days, how much benefit would they offer?
Healthy Chocolate
Thankfully there is a company making minimally processed premium chocolates that is not available anywhere else. In fact, they are the only ones with the rights to "Healthy Chocolate". One Beyond X-Power or Xobiotic Square is just 35 calories, 1 gram sugar, 1 net carb and equal in antioxidants to 1 pound of raw spinach. The vital cocoa flavonoids are noted on each individually wrapped piece.
At the very least, take advantage of the Beyond Chocolates and try this tasty and healthy chocolate for yourself.
Preference?
They offer four varieties including Beyond nuggets, Beyond Power Squares, Beyond Xobiotic (probiotic chocolate) and my personal favorite, Xo Love Bites with maca and L-arginine. The full bag size provides 120 individually wrapped chocolates meant to last a month eating 4 pieces a day spaced out morning, mid day and evening. You may remember these as Xocai, name has changed. Same great product. No FAKE chocolate.
Healthy Chocolate Florida
These products have been very popular here in Babcock Ranch, Florida. If this is not available in your area, Beyond does ship within the United States, Canada and Japan and continues to expand. They are quickly expanding and have business opportunities to start your own home based business at a very affordable cost sharing these delicious morsels as well as the new Cosmikology clean makeup line.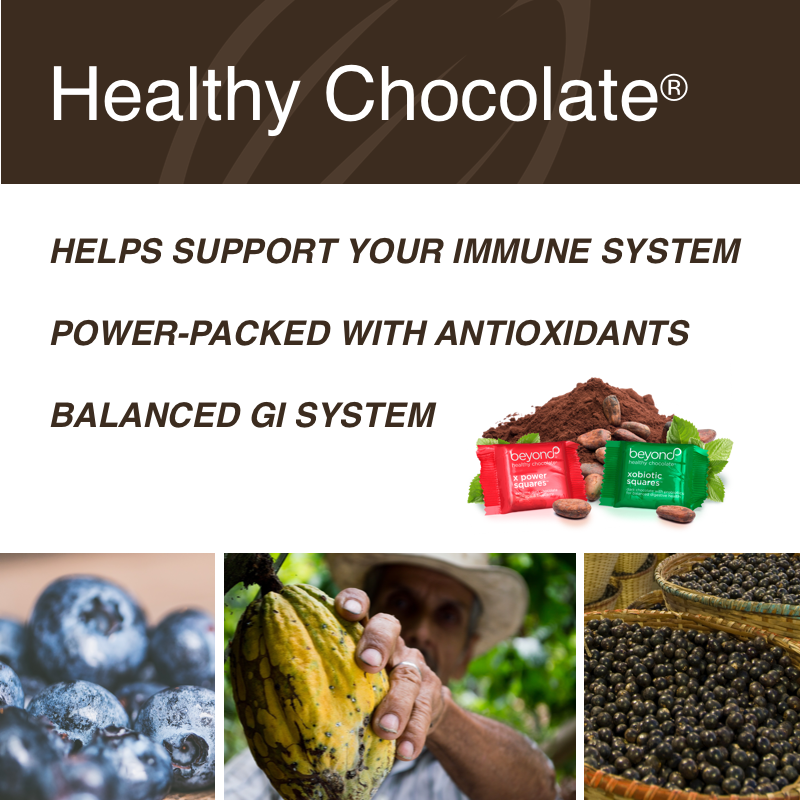 Contact Lynette Henk of Three Sons Marketing LLC with any questions at (941) 676-7300 or visit HealthyChocolateFix.com for more information. Skip the FAKE chocolate. You deserve the real deal.
What is a flavonoid in chocolate?
https://healthyeating.sfgate.com/flavonoid-chocolate-8424.html , Sandi Busch; Updated November 27, 2018