Can chocolate improve behavior? Pilot Study confirms Chocolate improves Parent Perception of Behavior Change of Child With Autism Spectrum Disorder.
Can chocolate improve behavior? Over 10 years ago, I started my son who suffers with Autism Spectrum Disorder on a healthy dark chocolate. Not candy, but a high antioxidant cocoa flavanoid rich chocolate. Since each piece of chocolate was equal in antioxidants to a pound of raw spinach and was low in sugar, I thought it was a good choice for a snack and a healthy food.
Breakfast choices. Eventually I put him on a new dark chocolate protein shake made by Beyond chocolate with the same goal of improved nutrition. I noticed significant improvement in mood and behavior. His doctor and I assumed the good nutrition was helping. For those who don't know, many on the autism spectrum have problems eating foods and end up on a limited diet which means limited nutrition. I have continued to share this health chocolate with my friends and those in the autism community who also have children with autism who notice similar benefits with improved nutrition. Can chocolate improve behavior? It's a great question.
When I saw the abstract of "A Pilot Study: Parent Perceptions of Behavior Change In Their Child With Autism Spectrum Disorder Following High Antioxidant Cacao Consumption.", I thought it would show a benefit as I witnessed it first hand. The conclusion states " Results from this study support previous literature on antioxidant intake as an adjunct therapy to improve behaviors of children with ASD. More robust randomized controlled trials are now necessary to validate and elaborate on these findings. "
My son is now 27 and has been enjoying the Beyond dark chocolate shake for breakfast for many years. If he skips the shake, we see a difference in mood and behavior within a day, so we make every effort not to skip. Good nutrition matters. Can chocolate improve behavior?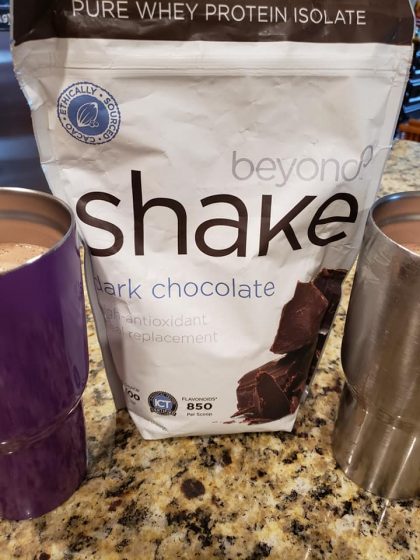 Research
I look forward to additional studies and highly recommend anyone who has a child dealing with ADD, ADHD or any form of Autism Spectrum Disorder, consider incorporating healthy foods into the diet. Most people I have spoken with who have a family member dealing with autism have had severe mood swings especially when they are going into puberty or when there is a change in daily routine. This was certainly the case with my family. The mood swings and behavior was severe enough for us to be concerned for the safety of other family members and to have him live at home with us. This is no longer an issue. We are so blessed!
Mood Swings
We know first hand how autism mood swings can be a challenge. I suffered a broken shoulder and arm after an episode. Only parents and caregivers understand how severe and serious these mood swings and behavioral issues can be.
My son and I continue to have healthy protein every morning for breakfast. Our current recipe is 1 cup unsweet vanilla almond milk, 1 cup ice and 2 scoops of the protein shake. It also tastes great with frozen banana and often a great choice for kids.
I have recently started giving my son the XeTRM berry supplement that mixes in water easily. This also has the healthy chocolate with acai and blueberry, has no sugar, 1 calorie and no carbs. It is a new product, that we are all enjoying. I love having healthy food options in the house that are super easy to make.
If you have any questions on healthy food options, please call us at (941) 676-7300. You can also find information on our healthy chocolates at MyChocolateVitamins.com. Simply click on Brands, choose Beyond and find a great selection of chocolate.
"A Pilot Study: Parent Perceptions of Behavior Change in Their Child With Autism Spectrum Disorder Following High Antioxidant Cacao Consumption."

Sadek A, Berk LS, Mainess K, Daher NS.
Product Disclaimer. These statements have not been evaluated by the Food and Drug Administration. These products are not intended to diagnose, treat, cure or prevent any disease. Three Sons Marketing LLC assumes no responsibility for the improper use of and self-diagnosis and/or treatment using these products.