Gas Prices Are Insane!
Off the charts gas prices affect us all. Those of us living paycheck to paycheck or on fixed incomes are hurting. Imagine having a large family, Everyone in the middle to lower income brackets are seriously struggling today. The cost of groceries and necessities, vehicle costs and housing continue to rise because of inflation. The more gas prices continue to go up, the more they affect everything. Not only is it affecting all of us at the pump when we fuel up at the gas station, but transportation costs are up all over the world which affects most everything we buy. This gets passed down to all of us. This is not fun!
Fuel Costs Jump Nearly Overnight
The last few days here in Southwest Florida, a gallon of regular gas was up to $4.85. We noticed locally the gas price jumped almost overnight by 35 cents a gallon. These costs are not sustainable for the average consumer. If fuel costs were the only concern perhaps, but honestly, have you been to the grocery store lately? I am paying double for boneless skinless chicken breast and significantly more for all of our groceries, soap, laundry detergent, cleaning products etc. Thinking about all of this made me realize I needed to make some changes. Off the charts gas prices are insane!
Here Is What We Did To Save On Gas
1} We started shopping for the best price on gas. Gas Buddy is a great app to find the best price. Our searching found that the local warehouse club memberships offered the best price in our area. Consider getting a membership. Locally our best price on gas has been Sam's Club or BJ's Wholesale. (Sorry Costco, not close to our house)
2) Planning out our trips. Our church is 40 miles from our house. My mom lives close to the church. The church is also close to Sam's Club and BJ's Wholesale. Coordinating our trip to church, to see my mom, to go out to eat and do some grocery shopping saves us on gas from multiple trips. You get the idea. Coordinate your trips. So much for being spontaneous!!
3) We started using a fuel additive that saves on fuel economy and helps the engine. We are saving $20 a tank in fuel economy in our Chrysler Town & Country Van. When we deduct the $4 cost for the fuel additive, that is saving us $16 every tankful. Add to that the benefits for the engine and other components of our van and we are doing good. Not anxious to buy a new car as they are hard to find these days. Locally used cars are up 35-40% so now is a great time to take care of the car you have.
Highest Prices I Have Ever Seen!
My husband and I are both 57. This is the most we have ever paid for gas. Our last fill at the gas station was $90. I remember spending less than $40 to fill the tank. My husband remembers filling the tank for $35 just a few years ago. I do remember how high gas prices were back in 2008. Off the charts gas prices, A transportation crisis.
What is FFX?
FFX is Fuel Factor X. It's a recently relaunched product that went viral in 2008 when gas prices were high. It's like an 8 in 1 fuel additive that gets you more gas mileage between fill ups, increases horsepower, reduces emissions by up to 30%, lubricates the engine, helps it run better, and even allows you to drop from premium to regular when using it. Pretty cool!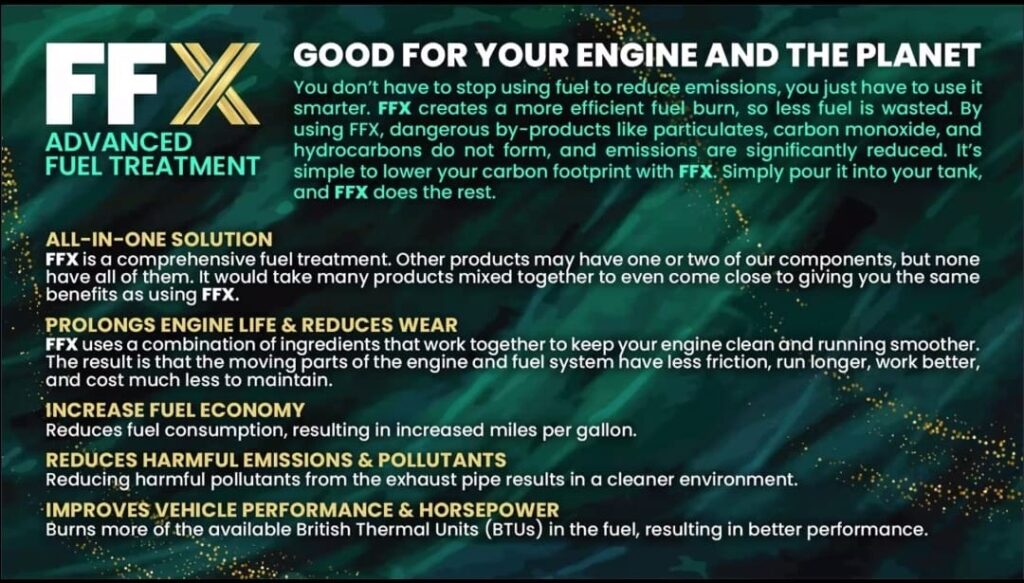 How We Use Fuel Factor X
Check out the video below about FFX to use in our car at the gas station. I am so glad this was shared with us. I had no idea there was anything I could do to improve our fuel economy. We were told to get the best benefit, we should double dose our vehicle for the first two fill-ups. So we did. We used double the amount of Fuel Factor X and filled the tank the first two times. Ever since we just use one dose. We started out with the individual packs and the 4 ounce container. ultimately you save more with the container so that is the long term way to go.
Order your FFX Executive Value pack today.
If you prefer, you can order our sample pack below.
Where Fuel Factor X Is Available
Fuel Factor X IS CURRENTLY AVAILABLE FOR ORDER IN THE FOLLOWING COUNTRIES: USA, Canada, United Kingdom, Italy, Hungary, Romania, Australia, New Zealand, Japan, Taiwan, Costa Rica, Panama, Peru, Ecuador, South Africa, and Nigeria.
Looking For A Side Job To Cover Extra Expenses?
Now I order the pack that includes the container I need and the individual ones I can share with friends and family. Now that costs are completely out of control, you may be looking for a side job. Well, helping people make their gas go farther is a great part time side gig. Help others and help yourself! Check out the details here.
Three Sons Marketing LLC is an affiliate of MyDailyChoice. Contact us today to get your healthy chocolate fix or call 941.676.7300.