Weight Loss Goals For The New Year
Affordable diet fat burn plans are a top search engine option on the internet these days. The new year will be here before you know it. Most of us have plans for New Years Eve to ring in the new year. Once the new year begins, it really is like a clean slate. It is our opportunity to start fresh. Some believe it is important to have a New Years Resolution and others believe that you should not. What do you think? I know that I have a goal for the new year. It is to continue my focus on health and wellness and lose 50 pounds.
Affordable Healthy Options to Lose Weight
Last year I focused on weight loss and consistent exercise. As I am in my late fifties, I am not anxious for a fad diet or one that is not healthy for me in the long run. Last year I made a point to research and make sure I was making smart and healthy choices. I found a complete plan that focuses on four pillars of wellness.
Protein Shake Options
Having tried many protein shake diets over the years but that was all they offered. I decided then to go with a plan that offered everything I needed that was still affordable. It worked! I lost 45 pounds last year on this plan. I did gain 5 pounds back after we got hit by Hurricane Ian but I consider my weight loss a big win. Not sure why, but this plan was the only one that seemed to target my belly fat more than anything before. As a mom who had three c-sections, that was a huge bonus.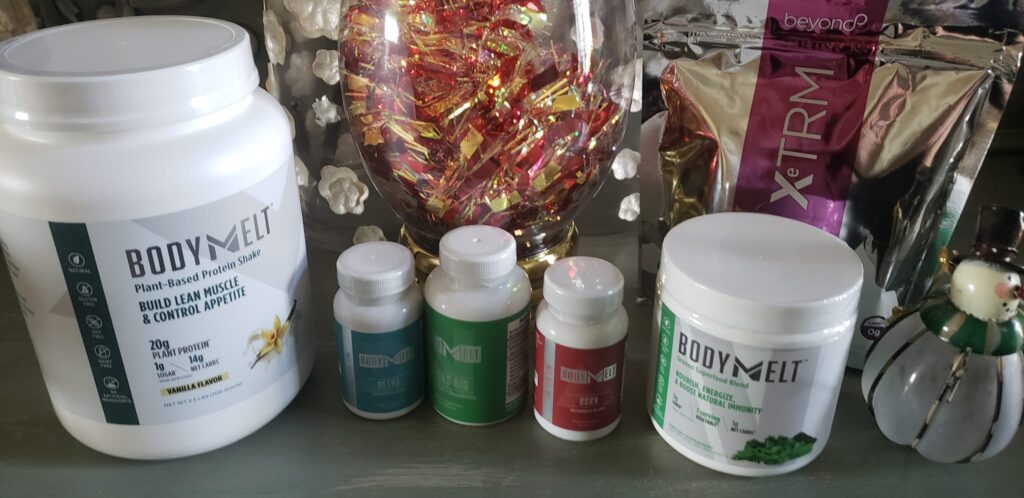 Stick With What Works
My goal with the Affordable diet fat burn plan was to stay on it six months last year. I did. I replaced two meals a day for the first six months. After that I found I was craving the vanilla plant protein shake with plant milk and organic frozen strawberries. I was literally having it for any meal or even dessert so I just kept having it. It did not feel like I was giving up good food so often chose to eat it anyway. I was losing the weight and not really trying. It was easy.
Fat Burning Supplements
I also realized the three supplements were really helping me so I stayed on those as well. Now that we are getting close to the new year, I am going back on the 2 meal replacement shakes a day. I love that this plan includes the probiotics, detox and the metabolic burn supplements and a great energy drink to curb cravings, burn belly fat and give you energy. There are two included options, I highly recommend the XeTRM stick packs. You also get the greens superfood. All around, I feel like this is such a great plan. You can get this all for just $200 plus shipping. If you want to replace two meals a day, check out this option. You also get a shaker cup free with your first purchase!
New Year, New You!
This Pink Drink Diet is my favorite! One of the options with this plan is the Pink Drink Energy Drink! It is included as an option, so be sure to click on the XeTRM stick pack! If you are not looking to do the complete weight loss plan, the Pink Drink diet option with 2 drinks a day is a great way to burn belly fat without committing to the entire plan. I personally want it all. I have been on many diets over the years. This one with all the options is what is working for me.
Get Started
Order your Affordable Diet Fat Burn Pack today in the MDC Marketplace! There are lots of great recipes and a big facebook group you can join for support. When we are all doing it together, you will see it makes all the difference. It sure did for me! This is honestly the easiest plan and the most effective I have found. It just works! Pick Vanilla or Chocolate for the plant protein and pick the XeTRM or other energy drink option. You can also decide if you want 1 or 2 shakes a day. It is seriously cheaper than groceries to buy this plan these days!
Reach Out
I am Lynette Henk of Three Sons Marketing LLC. Reach out if you have any questions at 941.268.1354 or visit my site directly at HenksGetHealthy.com.
Get Paid To Lose Weight
Share your weight loss transformation with this plan and start helping others lose weight. Text Lynette for details at 941.268.1354 or find out how you can earn in the MDC Marketplace.
Three Sons Marketing LLC (3sonsmom) is an affiliate of MyDailyChoice. Reach us at HenksGetHealthy.com.
These statements have not been evaluated by the Food and Drug Administration. These products are not intended to diagnose, treat, cure or prevent any disease. MyDailyChoice, Inc. assumes no responsibility for the improper use of and self-diagnosis and/or treatment using these products.