Reasons to eat chocolate
There are many reasons to eat chocolate. It tastes good and makes you feel happy. Did you know that there are secret benefits of dark chocolate? When I learned these hidden gems, it changed my life. As I learned the timing of when to eat these delicious treats, I began to see health benefits that continue to make a difference today. Once you unlock the secrets of healthy chocolate, you will never turn back.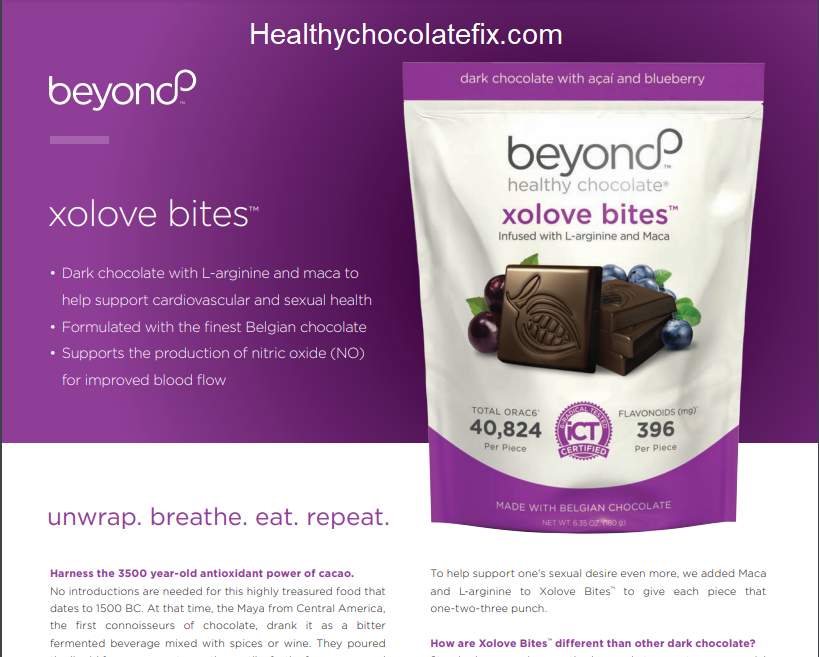 Health benefits
Any google or duckduckgo search will quickly get you information on the many health benefits of dark chocolate. The more flavonoids in the chocolate the better, as the flavonoids are what is important. Eating the highest flavonoid content chocolate is key. The highest I have ever found is the Beyond dark chocolate. This patented "Healthy Chocolate" has 672 mg of flavonoids per piece in just one power square. These are individually wrapped, 35 calorie, 1 gram sugar, 1 net carb chocolates so nearly anyone can eat them. These low carb KETO friendly and diabetic friendly chocolates are my go to these days. They taste delicious and make it easy to reach your health and wellness goals. There are so many reasons to eat chocolate!
Research
According to Harvard T.H, Chan, The Nutrition Source article "Dark Chocolate":
"Other observational studies suggest a link between high cocoa or chocolate intake of 6 grams daily (1-2 small squares) and a reduced risk of heart disease and mortality, possibly in part by reducing blood pressure and inflammation. [6,7]. "
The Nutrition article goes on to say you must limit how much chocolate you eat because of the high calories in chocolate. However, this is not the case with Beyond Healthy Chocolate. Once known as Xocai and now as Well Beyond, this patented chocolate has no waxes, fillers or processed sugars. One piece is only 35 calories and 1 gram of sugar. You can feel comfortable eating this cocoa product without the guilt associated with candy bars you find at your local candy or grocery store.
Secret benefits of chocolate
Reduced inflammation
Curb cravings (Simply enjoy a piece 30 minutes before each meal with a glass of water)
Reduced risk of heart disease
reduced blood pressure
Improves mood
Tastes great!
Timing of chocolate
The timing of eating the chocolate also makes a difference. This won't work for just any chocolate, so be sure to get the best. I only recommend the Beyond healthy chocolate as they contain the highest antioxidants per piece that I have found anywhere.
As a type 2 diabetic, I am able to control my diabetes naturally by eating 4 pieces a day spaced out morning, mid day, evening and before bed. I have one piece before every meal. Adding berberine 3 times a day has also helped me. I no longer take prescription medication for diabetes and have not had to for four years. More and more reasons to eat chocolate.
Health Issues
No matter your health issues, spacing out 3-4 pieces of chocolate daily is recommended. Try it yourself and see how you feel. Write down how you have been feeling, what has been bothering you. Try it for a month and see if you notice any improvements. We sure did.
Order direct at 3sonsmom.com or call Lynette of Three Sons Marketing LLC at 941.676.7300.
****RIght now there is a BIG SALE that ends Sunday, August 1st, 2021. Hurry and stock up buy 2, get 1 free on chocolates and BOGO on all other Beyond products. Best sale price and significantly less than what you will find on ebay or amazon.****