How Important is Detoxing?
Is detox important for weight loss? It was a question I had asked myself for years as I tried diet after diet with limited success. I had researched it a bit but never decided to do a detox. Coffee enemas have been recommended by some. Trendy detox spas offer a menu of expensive detox options that are not affordable to most of us. I was looking for something simpler and easier and more affordable, honestly. As I debated healthy weight loss options for 2022, I was thrilled to finally find a plan that included a healthy detox pill along with other supplements for diet at such a great affordable price.
My Detox Weight Loss Experience
I started taking the Detox Cleanse & Reset product by Body Melt. Every evening for two weeks, I took 1-2 pills before bed with a glass of water. I started with 1 pill and then increased to 2 the next day. Everyone is different so better to start slow. After two weeks, you can skip a week and if you want go back the next week. I have been doing two weeks on and two weeks off. Since I have been following the entire Body Melt plan, I have been doing this since November. I like that it is a gentle detox. Is detox important for weight loss is a great question. I can say the entire plan has helped me lose over 30 pounds so far including the detox.
"As part of the BodyMelt Detox Pillar, this powerful blend of herbal extracts supports the body's natural detoxification system"
Dieting Supplements I Take
In addition to the Detox cleanse & reset, I am also taking Micro Bio prebiotics + probiotics as well as Burn metabolic Blend that I take an hour after my morning meal every day. This combination in addition to the BodyMelt protein shake, energy drink and Greens superfood blend seem to be making it happen for me. Literally my shake is made with the vanilla protein, 1 cup of unsweet vanilla almond milk and frozen organic berries. Three simple ingredients make the best shake that I have had to replace breakfast, lunch or dinner and every once in a while I will even have it for dessert. Yes, it tastes that good. Thankful I found this. Is detox important for weight loss? You decide. For me, it has made a positive impact.
Affordable Detox
The Detox cleanse & reset is affordable at just $29.00 member price. An even better value is the entire BodyMelt program for a full 30 days. This includes your protein shake, energy drink, greens superfood blend and the three supplements mentioned above. I honestly don't know of any other quality plan that is this affordable. Check it out today.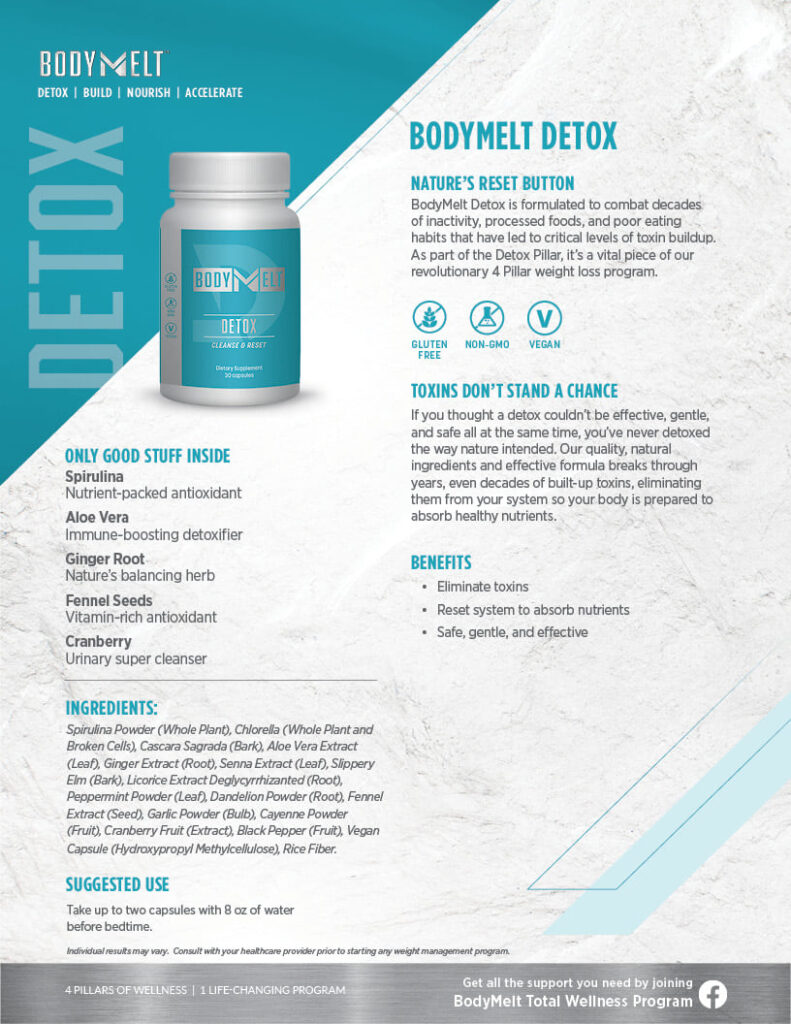 Visit our website HenksGetHealthy.com or contact Lynette Henk of Three Sons Marketing LLC at 941.676.7300. We are here to help.
Results vary from person to person based on starting point, effort, and other factors. Testimonials do not represent typical results.
Three Sons Marketing LLC is an affiliate of MyDailyChoice. Contact us today to get your healthy chocolate fix! We are looking for leaders to grow our team and share these great products with the world.
These statements have not been evaluated by the Food and Drug Administration. These products are not intended to diagnose, treat, cure or prevent any disease. MyDailyChoice, Inc. assumes no responsibility for the improper use of and self-diagnosis and/or treatment using these products.