FFX is here!
Fuel Factor X treatment sample is now available. (FFX) By now you may have heard of the fuel treatment taking the world by storm. You can "save money on gas, drive further, and protect the planet".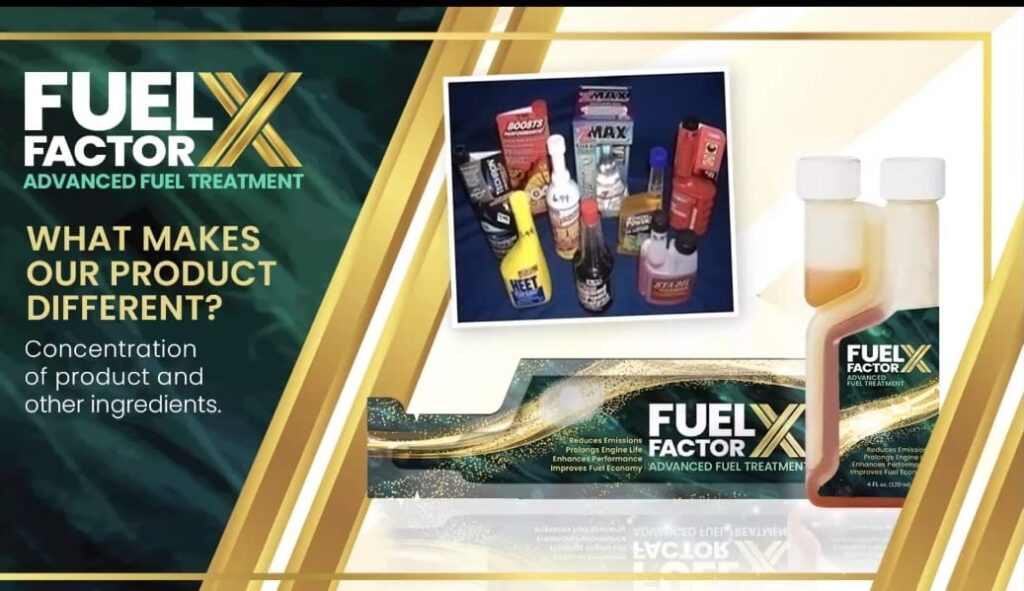 Comprehensive fuel treatment
FFX is a comprehensive fuel treatment. Other products may have one or two of our components, but none have all of them. It would take many products mixed together to even come close to giving you the same benefits as using FFX.
How to save on fuel?
THE UNIQUE FFX FORMULA CONTAINS
MULTIPLE INGREDIENTS, EACH DESIGNED
FOR A SPECIFIC PURPOSE. IT'S LIKE
SUPER FOOD FOR YOUR ENGINE.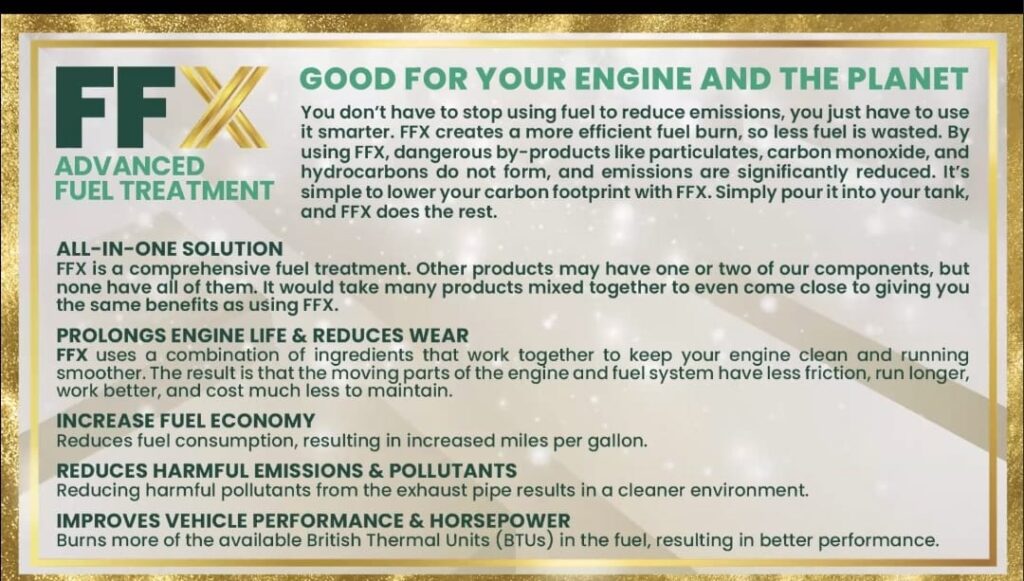 Organometallic Compound
Proprietary formula includes Organometallic Compound.
A catalyst that ignites fuel at a lower temperature, providing
a longer, more complete burn of the fuel. This causes the fuel
to be used more efficiently, providing improved fuel economy
and less wasted fuel out through the exhaust, which reduces
emissions. The organometallic compound burns more of
the available BTUs of the fuel. Reduces friction from pistons,
pumps, and injectors, which would ultimately wear down the
engine, therefore prolonging the engine's working life.
Where can you buy Fuel Factor X?
FFX IS CURRENTLY AVAILABLE FOR PRE-ORDER IN THE FOLLOWING COUNTRIES: USA, Canada, United Kingdom Italy, Hungary, Romania, Australia, New Zealand, Japan, Taiwan, Costa Rica, Panama, Peru, Ecuador, South Africa, and Nigeria. FFX will begin shipping by April 18th, 2022. Fuel Factor X treatment sample is available for pre-order.
Order your Sample here
FFX is available in a 4 pack in individual use packaging. Visit the sample website at samplefuelsaver.com
Fuel Factor X Executive Pack
Now available for pre-order, the Fuel Factor X Executive pack. This is the most cost effective option to get started using and sharing FFX. Not only can you save money by having to fuel up less often, you can get paid to share this product with others. Reach out to Lynette Henk of Three Sons Marketing LLC with any questions. Visit our website here or call 941.676.7300. Our team has resources and training to help you to quickly grow a business if you are willing to put in the work. It is up to you.